My grandma is currently staying with us at the moment and for her (and many Persian families), a standard breakfast would be flatbread bought fresh that morning (there is no such thing as day old bread in her household!), feta cheese and unsalted butter. You'd rarely see juice or milk make an appearance but instead, have hot, simmered tea (usually made on the stovetop) and for those with a sweet tooth, some sugar cubes.
Since her arrival, she's had some complications with her health and her most recent blood test indicated higher than normal levels of cholesterol. While she was advised to consider taking a supplement and potentially medication, I thought it would be beneficial to, for a month at least, try using the healing powers of certain foods to see if there could be a positive impact made.
After some research, I found that certain foods actually help lower cholesterol- These include legumes, oats, tofu and heart healthy fats like salmon and avocado. I'll keep you guys updated in a few weeks time after her next blood test!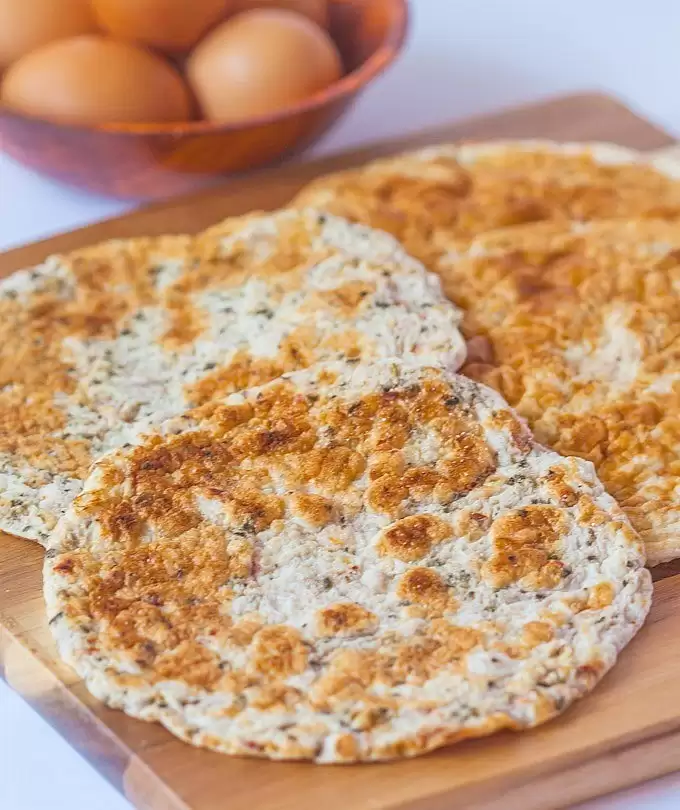 I'm currently about to enter Week 3 of the Reader's Diet Challenge and to be honest, it's been going pretty smoothly. Much of the credit must go to having weekends off and having a newfound affair with bananas. Even though I have weekends off, last Saturday morning I joined my mum and grandma for breakfast but brought along some easy Paleo flatbread, inspired by their Persian variety they were enjoying.
I've seen numerous recipes for a Paleo flatbreads and this is just my own version. Some are more 'egg like' yet others are far too dense which make it more like a 'bread' but crumbles once you try to fold it. My version is more towards the 'egg like' side which suits me fine because I used them as a vehicle for smoked salmon and avocado wraps.
Does this Paleo version taste exactly like the Persian variety my mum and grandma were eating? Most definitely not. However, they have a chewy texture, can be folded up to make flatbread rolls and are the perfect vehicle to well…anything.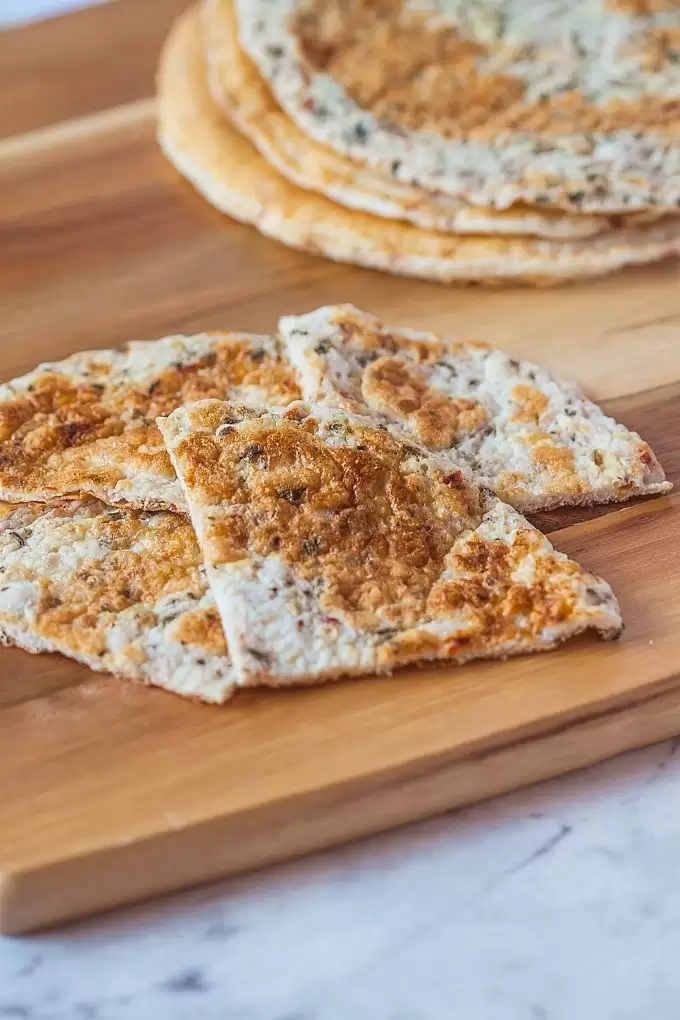 These flatbreads are ridiculously easy to whip up. You do them over a stovetop but the key here is to ensure you cover the frying pan and cook on low heat- Doing this results in the perfect crispy outside and easy flipping. As mentioned, THREE ingredients are needed (spices don't count and are optional). These are perfect for those watching their carbohydrate or calorie intake, or don't care much for sandwiches or wraps but want to use it as a vehicle to the good stuff…like this dip.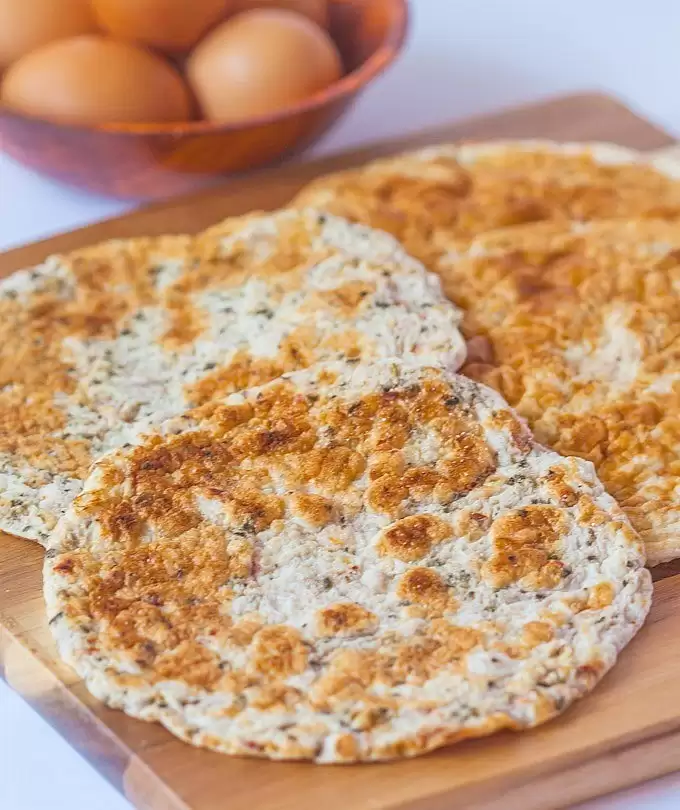 3 Ingredient Paleo Flatbread
Serves 4
Just three ingredients are needed to make this paleo 'flatbread'- Perfect for those watching their carb intake yet craving something 'bread' like or a lighter vehicle to hold those wrap or sandwich fillings!
Ingredients
1/4 cup coconut flour, sifted
2 tsp homemade paleo Baking Powder (use standard if not strictly paleo)*
12 egg whites (not from a carton)
1 tsp sea salt
Herbs of choice (I've used basil, red pepper flakes, garlic powder and rosemary before)
Coconut oil/cooking spray
Instructions
In a large mixing bowl, combine the egg whites and whisk lightly. Add the coconut flour, baking powder, salt and any other spices and whisk immediately to avoid clumping. Set aside.
Coat a large frying pan with oil and on low heat, allow to heat up completely. Once hot, pour 1/4 of the mixture into the pan and cover immediately. Once bubbles start to appear on the edges, remove cover and flip and cook for 1-2 minutes. Repeat the process until you have four, large flatbreads.
Allow to cool completely before using it as a wrap.
Notes
Baking powder isn't technically paleo so a simple way to recreate a substitute is to combine baking soda and lemon juice- for this recipe use 1/2 tsp baking soda with 1 T lemon juice.
Flatbreads can be refrigerated for up to a week. Freezing them is not recommended, unless you heat them up again in the pan.
SIGN UP FOR FREE UPDATES, OFFERS, & TIPS.
Plus I'll send you a free copy of "Your Simply Healthy Handbook." It's your #1 resource to make healthy living easy.
Thank you for supporting this site with purchases made through links in this article.